Posted by Interviews | Posted on 07-13-2012
| Posted in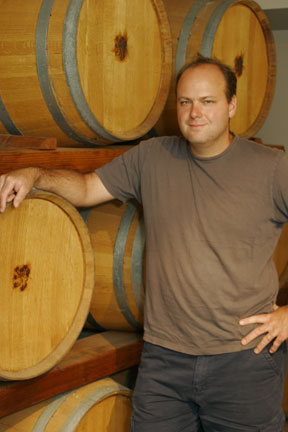 Each week, as regular readers know, we pose a series of questions to a winemaker. This week, we're featuring Matt Meyer, the winemaker and owner of Meyer Family Cellars.
Matt's wines have serious pedigree. His father, Justin Meyer, co-founded Silver Oak Cellars in 1972 and created one of the biggest wine brands in history through great winemaking and marketing prowess.
Matt hoped to follow in his father's footsteps from an early age. He spent much of his adolescence working in the vineyard and cellar at Silver Oak, and went on to earn a Masters in Viticulture at UC Davis in 2000.
Matt runs the winery together with his wife Karen, a native of western Australia who studied enology at Charles Sturt University. The two met in 1999 while working a crush at Argyle Winery in Oregon's Willamette Valley. And today, they produce a number of wines, from rich and powerful Oakville Cabernets to a charming cooler-climate Syrah from the Yorkville Highlands.
While the Meyer's flagship wine, Bonny's Vineyard, is fantastic, great value can be found in the Syrah (about $25/bottle) and the Spitfire Cabernet (about $45/bottle). The Spitfire has perfectly integrated layers of flavor and tannin, much like the layers of a great lasagna. Cherries, currants, smoke, spice and herbs are all enveloped in a down comforter-like mouthfeel. Tremendous.
Check out our interview with Matt below the fold.
What is your general winemaking philosophy?
Old School Kick Ass. I very strongly believe that the best wines the U.S. ever produced were made in the 1980s when the vines were diseased and struggled to get fruit ripe. Those vines produced amazingly flavorful yet balanced (think 12.5% alcohol) wines. Due to some pesky ground bugs we had to replant and grew vines hydroponically for a couple decades. I think just in the past couple of years, folks have been finding ways to slow vines down again and bring balance back to American wine. It's a very exciting time to be making wine.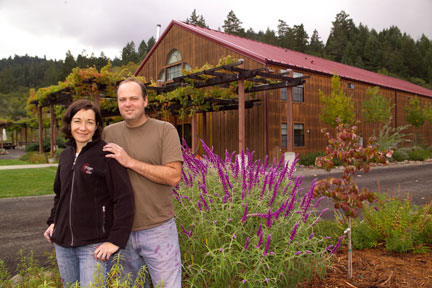 What's open in your kitchen right now?
A window.
Who are your favorite winemakers in history, through personal account, or their wines?
I was raised on Cabernet so I have to bow down collectively to the last hundred years of winemakers in Bordeaux, and then Robert Mondavi for marketing California so effectively and convincing many other folks to follow along.
Though I have to say one of the most entertaining and likable winemakers I ever met was Bill Chambers in the Rutherglen who when asked how old his fortified Tokay was said, "My father, grandfather, great-grandfather, great-great-grandfather, and great-great-great grandfather didn't take very good records… but you can smell it's old." Some of the most awesome dessert wines on the planet and a history and would be hard to reproduce outside of 100 years of effort.
What new winemakers are you most excited about, and why?
Anyone who is making balanced wine and not that overly alcoholic crap.
How do you spend your days off?
These days, with the kids at the pool.
What's the best wine you've ever tasted? The most interesting?
Honestly, I think it so depends on my mood. I don't know if I would want to drink a full glass of some of the best wines I've ever tasted. And some, I would not want to stop drinking.
Some of the older vintages of Grange (I love me some ethyl) or on that list. I have a fascination with the '82 vintage Cabernet Sauvignon from a smattering of Napa and Bordeaux producers. I love a well-aged Petite Sirah, specifically I've had '72 and '76 vintages from Stags Leap Cellars and the '76 from Freemark Abbey in the past year, and they have been just phenomenal.
What's the oldest bottle in your cellar? The most expensive?
Oh, probably lots of old Cabs from the 60's, I think a port from the early 1900s. Most expensive, don't know. I don't think I've paid over $200 for anything in the cellar, but I probably have some 12L that are worth a party.
If you had to pick one red and one white to drink for the next month with every dinner, what would you choose?
Since it's getting warm, I'd say Champagne for the white. And Barolo sounds nice for the red.
What's your biggest challenge as a winemaker?
Government Paperwork!!!
What's your favorite wine region in the world — other than your own?
Tokaji. I find Hungary fascinating and would love to get back.
Is beer ever better than wine?
Absofrickenlutely! Especially after bottling, or a particularly long day of harvest.
What would people be surprised to know about you?
My middle name is Raymond.
If you weren't making wine for a living, what would you be doing?
I'd be on the professional Frisbee Golf Circuit.
How do you define success? 
The luxury of sitting down to dinner with friends.